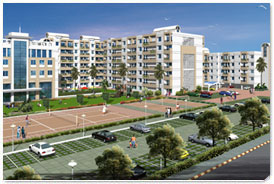 Deep Ganga Township is a dream mini township located most strategically in Sector-5A at the foot hills in Haridwar, barely 8 Kms. inside NH-58 from Bhadrabad, just 4 Kms. from BHEL and a few minutes away from the bubbling industrial hub of SIDCUL.
Haridwar, the seat of spirituality and a centre of pious thoughts and learning and the gateway to the holy Ganges attracts visitors from the entire World. Deep Ganga with its proximity to fast developing SIDCUL and District HQ, is set to enjoy all the transport facilities for easy accessibility for the residents.
Aesthetically placed and spread over about 20 acres of land, Deep Ganga Apartments with peaceful surroundings and healthy environment ensure convenient, comfortable and enjoyable living. Deep Ganga offers one and two bedroom apartments and dormitories structured most elegantly and fitted with all the modern amenities.